Today, an event almost happened where the creating force behind my snowey domains were together for the first time in years, our annual Easter Egg hunt for the kids.
Sadly the Ogre was not with us, which was a shame as I had cooked him 12 sausages on the bbq, and knowing how he likes his grub I didn`t want to let him down when he turned up.
There was Smokey, The Gladiator and Me (Snowey) together for a few hours, a few hours to have a catch up, a laugh, a piss take, some food, more of laugh, lots more piss taking, lots more food, even more piss taking, even more laughs and so on…
Highlight has to be when The Gladiator turned up with his sun glasses only to find that they were a pair of 3D glasses from the cinema. Oh how we have missed him!
We even managed to participate in a `Dads` egg and spoon race. Smokey tried to do a sneaky and hide in the toilet, but I wasn't going to let him get away with that, so with the promise of a bit of bluetak to keep his egg on his spoon we had the race. Surprisingly Smokey won and took away the prize of an Easter Egg. Was gutted as I had my eye on that…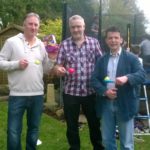 It was a shame that The Ogre wasn`t there, but hopefully he will be coming to the Munters birthday in a few weeks time….