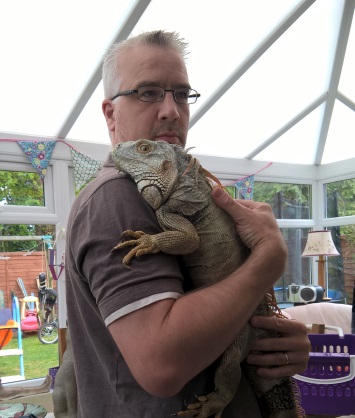 Sadly, after having Yoda for just over 20 years, he was put to sleep on 01/05/2017.
He lost a lot of weight and muscle over a few weeks and on returning home we found him on the bottom of his viv not being able to walk on his left leg.
While at the vets we found a golf ball size tumour in his lower abdomen.
I hope Yoda enjoyed his life with us as much as we enjoyed him being in ours.
He has been through and seen a lot with us – numerous other pets – cats, dogs, salamanders, rabbits, guinee pigs, snake, giant millipedes and fish.
Yoda has also seen us get married, move house and have 2 children, not to mention moving house 3 times himself.
His website, YodaCam, had over 350,000 camera views and was online for over 13 years.
I am so gutted to have lost a family member, nothing will be able to replace him. It will not be the same not seeing him looking at me as I walk down the stairs every morning, seeing him asleep on his shelf when I go to bed or having him look at me as I bring him his bowl of veg.
Rest in peace big lad, you will be missed.